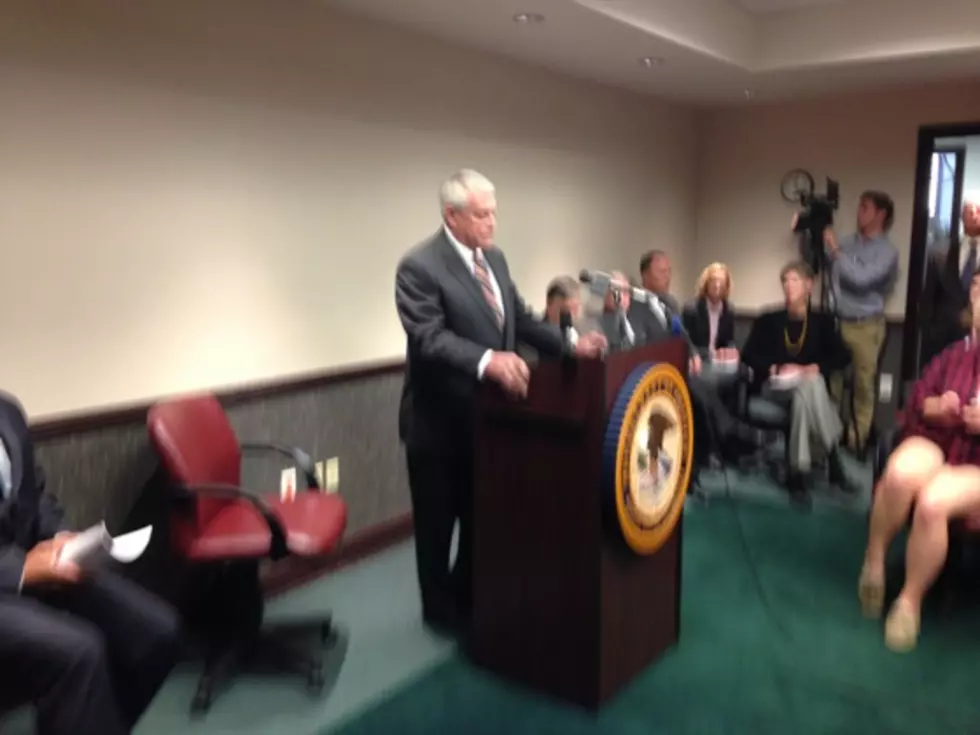 Federal – State Law Enforcement Agencies Launch 'Project Safe Bakken' [AUDIO]
Photo by Peter Christian
The boom in the Bakken that has brought thousands of workers into the area, has also brought organized crime, complete with drugs, prostitution and gun violence.
Now, a coalition of law enforcement agencies has combined to create 'Project Safe Bakken', introduced Friday afternoon, October 11, at a news conference in the Billings office of Montana's U.S. Attorney Michael Cotter, that featured two major topics.
"One, earlier in the week, we had several indictments that were unsealed here in Billings, included a dozen defendants who were arrested in eastern Montana, western North Dakota and eastern Washington," Cotter said. "Several of those subjects face drug charges that carry terms of imprisonment of 10 years to life."
The second aspect of the news conference dealt with a new initiative to combat the growing problem of drugs, prostitution and organized crime that had grown up in the rapidly growing Bakken area.
"Today, we announced the formation of Project Safe Bakken," Cotter said. "I announced that along with Montana Attorney General Tim Fox, and we are joined in this initiative by North Dakota U.S. Attorney Tim Purdon, and North Dakota Attorney General Wayne Stenehjem."
"The long-term project's purpose is to detect, disrupt, and dismantle drug trafficking organizations and criminal enterprises that are operating in the Bakken region of Montana and North Dakota," Cotter continued. "Whenever a small group of individuals start making a lot of money, upwards of $100,000 a year in some cases, organized crime will target those areas. Whether it's drugs, prostitution, guns or gambling, we will have those traditional types of crimes increase."
Cotter emphasized the cooperation the project has developed between multiple jurisdictions.
"What really stands out about this project is the collaboration between all the federal agencies that are involved, as well as the Montana Department of Criminal Investigations, our counterparts on both sides of the border, in Montana and North Dakota," Cotter said. "We're also sharing intelligence in coordinating the investigation and prosecution of cases."
Cotter said the Montana Highway Patrol will be primarily responsible for monitoring the I-90 corridor in Montana from Seattle to Minneapolis that has become a gateway for drugs and guns.
"The Montana Highway Patrol, as part of it's portfolio of operation does interdiction along the thoroughfares of Montana," Cotter said. "They also have canine units that they are using, and they do a great job."
Cotter said he was optimistic for the future of Project Safe Bakken.
"I think we're going to do very good work," Cotter said. "I'm very optimistic about what we've put together here."
U.S. Attorney for Montana Michael Cotter
More From KBUL NEWS TALK 970 AM & 103.3 FM