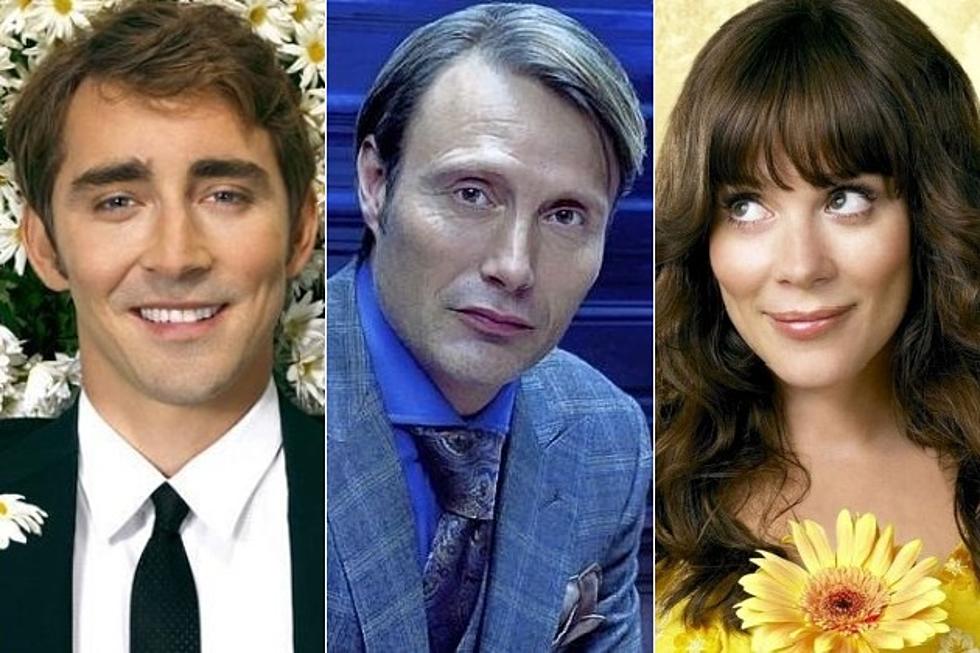 'Hannibal' Season 2: Will Lee Pace, Kristin Chenoweth and Anna Friel End Up 'Pushing Daisies'?
ABC / NBC
A few weeks ago we heard the surprising news that 'Hannibal' creator Bryan Fuller had an eye on casting glam rock icon David Bowie as Hannibal's uncle should the NBC drama be granted a second season, but it seems Fuller has far more familiar faces in mind. Should NBC decide to serve 'Hannibal' a second course, Fuller will do his best to reunite the 'Pushing Daisies' cast by bringing in actors Lee Pace, Kristin Chenoweth and Anna Friel! Find out about the big 'Pushing Daisies' reunion on 'Hannibal' inside!
The first season of Bryan Fuller's darkly delicious NBC drama 'Hannibal' has seen several notable Fuller alum popping up in guest spots, including 'Dead Like Me's' Ellen Muth, 'Mockingbird Lane's' Eddie Izzard, 'Wonderfalls' star Chelan Simmons, 'Pushing Daisies' vets Ellen Greene and Raul Esparza, but Fuller has little intention of stopping there. Speaking with E!, Fuller revealed his intent to cast 'Pushing Daisies' stars Lee Pace, Kristin Chenoweth and Anna Friel, should NBC grant the critically acclaimed series a second season.
I talked to Lee Pace about doing a role on ['Hannibal'] this season. But he was doing a stage play and so we're planning to work that out with season two. He's definitely interested in doing the show and I would love to work with him again. I also very much want to work with Anna Friel again, and Kristin Chenoweth clearly has to play someone in the Boston arts scene. Perhaps an opera singer. So we are hoping to make that all happen.
Of course, Fuller may have Pace's role in 'Guardians of the Galaxy' to compete with, but what say you? Would you be interested to see such a major 'Pushing Daisies' reunion on 'Hannibal' next year, if NBC delivers a second season? Give us your dream 'Hannibal' castings in the comments, after you watch the latest preview!
More From KBUL NEWS TALK 970 AM & 103.3 FM