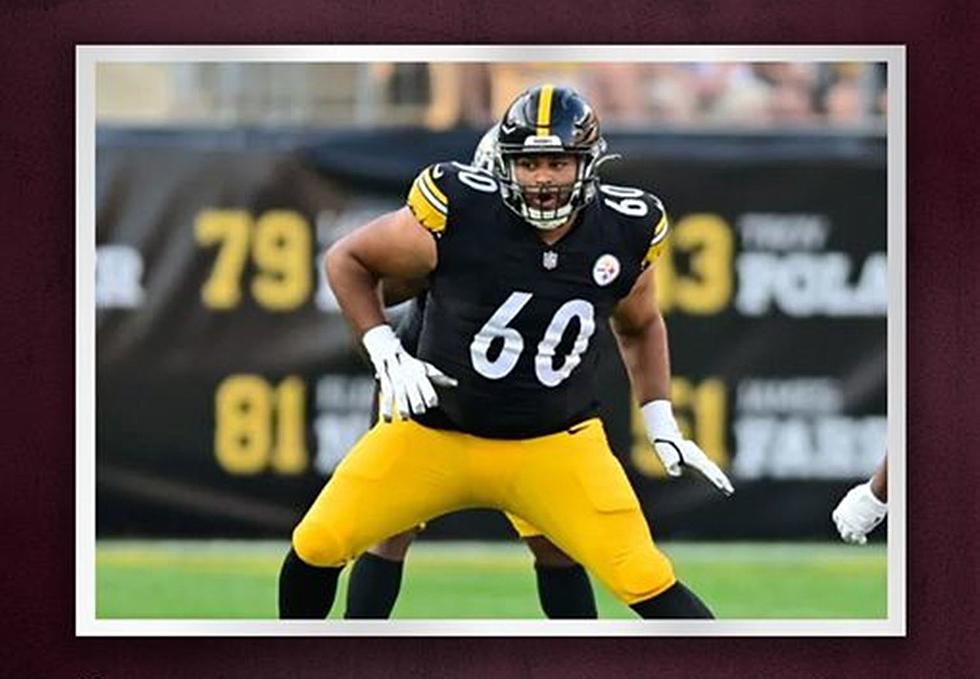 Former Montana Grizzly Football Star Makes Final NFL Roster
Image courtesy of U of Montana Sports Information
One of the more unlikely position changes in college football has resulted in what we hope is a long and decorated professional career.
University of Montana Sports Information tells that today (Tuesday) former Griz offensive lineman Dylan Cook made the 53-man roster for the National Football League's Pittsburgh Steelers. Teams had to make their final roster cuts this afternoon.
Dylan came to the Griz by way of Butte High School and started his college career at MSU Northern in Havre, where he was a quarterback at both schools. Yes, a quarterback!
At 6-feet-6 and just over 300 pounds, it became obvious that he was more suited to the offensive line at the Division 1 college level, where hard work and a tremendous attitude kept his stock on the rise at Montana. He walked on with the Griz, earned some All-Big Sky recognition as a senior, and was a two-time Academic All-Big Sky honoree.
Dylan signed as a free agent with the Tampa Bay Buccaneers for the 2022 season, and was one of 16 players on their practice squad. He signed with the Steelers in May and held his ground as the roster was whittled down.
THE GOOD AND NOT SO GOOD NEWS FOR OTHER GRIZ
In trimming their roster to 53 today, the Seattle Seahawks waived standout Grizzly linebacker Patrick O'Connell. There is some talk that Patrick played well enough to stay with the team on their practice squad.
And over the weekend, former Griz wide receiver/kick returner Malik Flowers was also released by the 'Hawks. Prior to his attempt to make Seattle's roster, Malik was a free agent with the New Orleans Saints.
Another bright side for former Griz: wide receiver Samori Toure, who transferred to Nebraska for his final year of college eligibility, is ready for a bigger role in his second season with the Green Bay Packers, as he is part of this year's 53-man roster as well.
Congratulations to all those Griz greats and here's hoping Patrick O'Connell and Malik Flowers will have other NFL opportunities in the near future.
Montana's Top 10 Record-Setting Wild Weather Events
Montana is named Big Sky Country for several reasons, not only grandiose Sunsets but impressive weather events as well! Ask any Montana resident who has scoffed at the idea of tossing a blanket or snow shovel in the trunk of the car " just in case". Here is a list of Montana's Top 10 Record-Setting Wild Weather Events
Top 5 RV Parks in Montana
When you need more than just a campground, you might need an RV park! Especially if you like to travel the country in a proper Recreational Vehicle, you need to know where to find good places to park for a few days. Montana is home to some very fine RV parks. Here are some of the best that Montana has to offer when you're on the road.