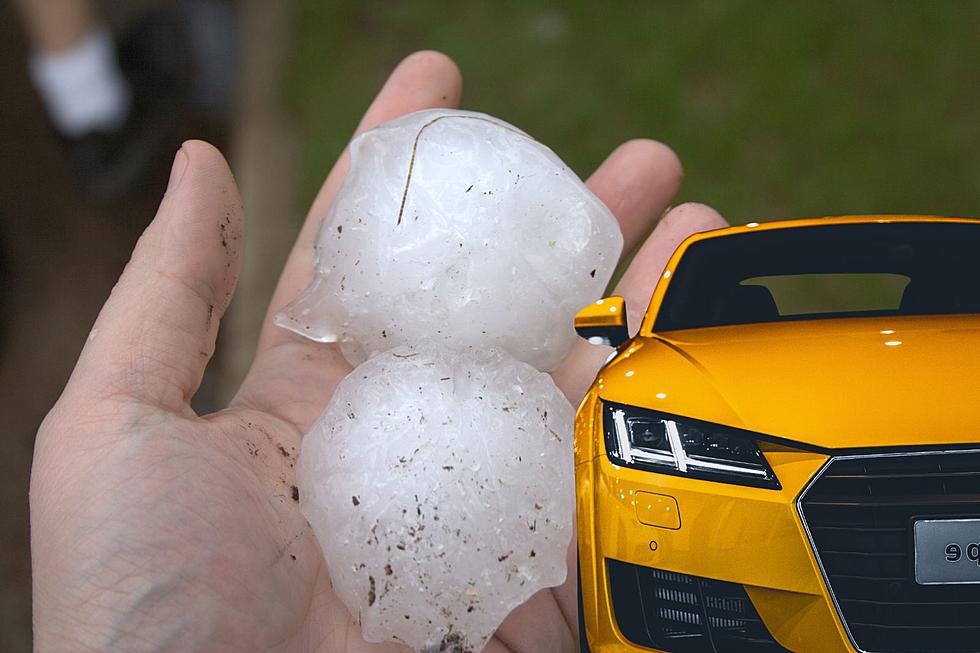 Aw, Hail No. Would Montanans Use This Wacky Vehicle Protector?
Canva
Hail season is here.
Many Montana vehicles have two distinct markings... a cracked windshield and hail damage. I've got one out of the two. My spouse's rig has both. In our neighborhood, we've already experienced one hail storm this season. Thankfully, it was mainly pea-sized hail. Looking at the clouds and the weather report on this balmy, late May afternoon, it looks like we're in for another round of possible scattered thunderstorms this week.
It's stressful.
If you have a garage, some concerns are alleviated when a late afternoon storm rolls in. Just park your car in the garage, right? But what about when you're at work or don't have a covered parking spot?
Hope and prayer are your first options.
Many of us make a mad dash to a parking garage, car wash, or underpass if we get caught in a hailstorm, but those spots can fill up quickly. Under a tree is also a risk. What if it gets hit by lightning or branches crash onto your car in the wind?
And it's expensive.
Hail damage can cause billions of dollars in damages in the US each year, explained WeatherUnderground. A 2017 hailstorm in Denver caused at least $2.2 billion in damages. Large hail (defined as 1" or larger in diameter) can cause significant damage to vehicles. Small dents be repaired somewhat affordably in some cases, but many times a big hail storm will total a vehicle.
If you're upside down on your auto loan, this can be a bad thing. If you opt to repair a "totaled" vehicle, a salvage title can also dramatically decrease the value of your beloved car. And if you don't have full coverage insurance, you'll probably just drive your dinged-up, hail-damaged car as-is. Beauty marks, if you will.
Have you seen this airbag-style hail cover?
My co-worker Josh and I were discussing this device during our Monday morning, "How was your weekend?" chat. No hail at my house, no hail (or rain) at his... yadda, yadda. He asked if I'd ever seen the device pictured above.
It seems to be what is essentially a durable, external airbag for your car/truck/SUV. Prices run around $400 - $500, depending on the size you need. It touts impressive claims of being wind-tested up to 80 mph and the seller, Hail Protector, shares a video of them throwing all kinds of crazy stuff at it during testing. Like dropping bricks on it from 30 feet and shooting it with baseballs from a pitching machine.
I'm intrigued.
Yeah, it's $450 bucks. That kind of seems like a lot, but how much is your insurance deductible? Do you think this device is practical? Or not worth the money? If you have one, I would love to hear from you. Michael@BillingsMix.com
LOOK: The most expensive weather and climate disasters in recent decades
Stacker
ranked the most expensive climate disasters by the billions since 1980 by the total cost of all damages, adjusted for inflation, based on
2021 data from the National Oceanic and Atmospheric Administration (NOAA)
. The list starts with Hurricane Sally, which caused $7.3 billion in damages in 2020, and ends with a devastating 2005 hurricane that caused $170 billion in damage and killed at least 1,833 people. Keep reading to discover the 50 of the most expensive climate disasters in recent decades in the U.S.