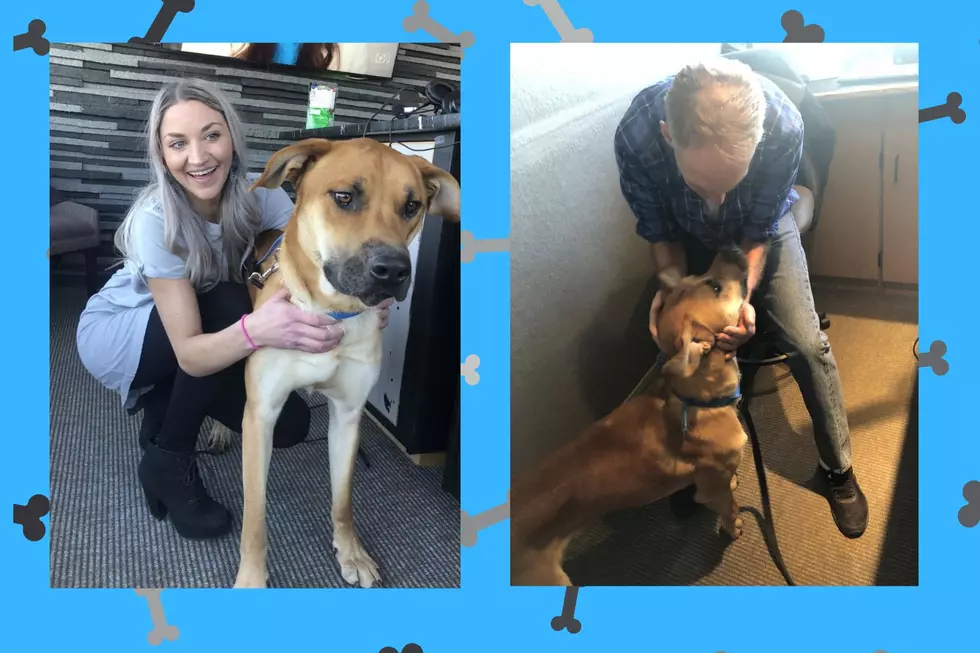 Joyous Jamie, The Mastiff Mix is Super Spunky and Sweet
Credit: Canva
Wet Nose Wednesday is my favorite day of the week because, duh- we get to meet dogs who deserve loving homes, like Jamie. 💙
Jamie's Back Story
Jamie, the Mastiff Mix is about 2 years old and weighs around 80lbs. Jamie is skinny because the shelter is causing him stress as he's been at YVAS since Christmas time. Unfortunately, he's been returned twice due to cats and him feuding. He just likes the cats too much, and they do not like him. Understandable. He's chipped, vaccinated and neutered.
Jamie's Personality
This big boy is too much fun. He is full of spunk, and is quite curious. Jamie absolutely loves other dogs, definitely needs someone to play with and maybe a companion dog to teach him the ropes of building confidence as a dog. 
Jamie is energetic and would love the dog parks, walks, and long hikes. He rides well in the car and just wants to be a part of the family. He is definitely food motivated as he searched our trash can for the berries I threw in it earlier. Oops. 😅 
Jamie is ready to go to his new home starting Thursday Jan. 19, 2023.
If you'd like more information about Jamie the Mastiff Mix contact Yellowstone Valley Animal Shelter and set up a time to meet this good boy.  
About YVAS
Yellowstone Valley Animal Shelter has been around the Billings Community since 2007 and became the official city companion for sheltering animals in 2009. Since the creation of YVAS, they have become the largest animal shelter in Montana, with over 5,000 animals coming through their doors each year. 
 Right now, YVAS is more than just a shelter. They work toward reuniting lost pets with their owners, provide adoption services, offer foster care for pets, and go out of their way to volunteer in the community.
Wet Nose Wednesday is sponsored by Shipton's Big R.
 Get all your pet needs at Shipton's. They have everything from food, treats, bones, and so much more for all your animal needs. Click here to check them out! 
10 Reasons Why Montana Is Better Than Other States
What makes Montana so much better than other states?