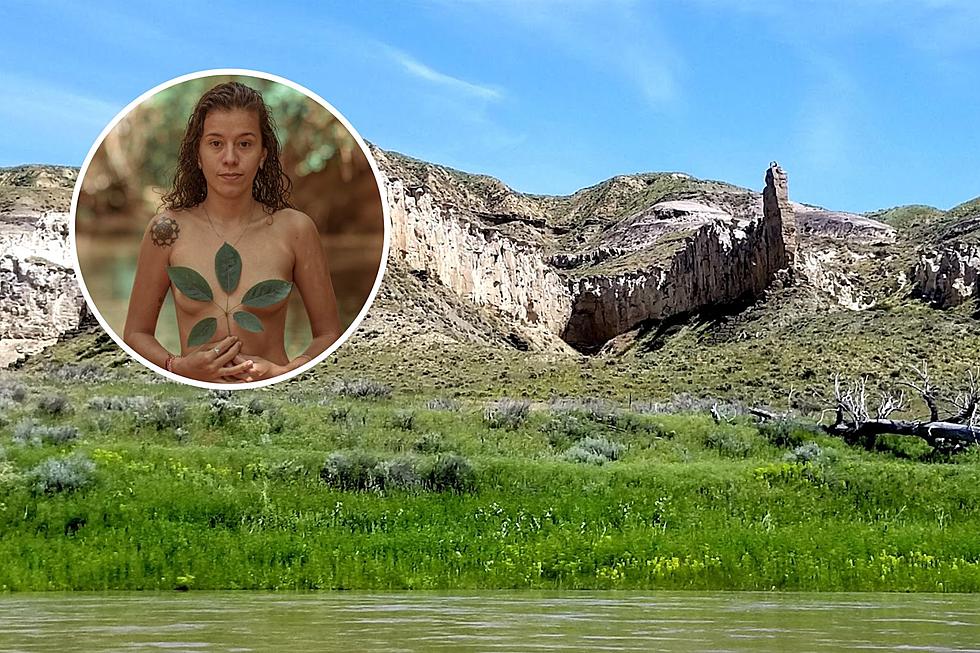 Naked and Afraid Should Come to this Montana Spot Next. Here's Why
Missouri Breaks, Montana. Credit Sara Neslund, used with permission. Inset Canva
Naked and Afraid is one of my trash TV guilty pleasures.
The show launched a decade ago on Discovery (June 2013) and it remains one of the network's most popular series. The most recent spinoff was the #2 most-watched new show on cable, according to Deadline.
We got hooked on the franchise late in the game, allowing us to binge-watch all of the seasons during COVID. The show has a number of spin-offs, like Naked and Afraid XL, Naked and Afraid Castaways, Frozen and Afraid, etc. Most of the spinoffs incorporate former show all-stars, who return regularly to undertake the challenge of living outdoors, naked, with minimal tools or resources.
Most recently we enjoyed watching the cast of Naked and Afraid Last One Standing; Discovery has already ordered another season. We'd love to see them film again in Montana, and we think we have the perfect spot.
The show has been set in Montana twice.
The first time was in 2020 on the episode Snow Daze. The IMDB synopsis reads,
In the American Rockies of Montana, snowstorms and freezing temperatures force the survivalists to make risky choices with their fire and food sources. An out-of-control blaze and toxic mushrooms put their challenge and safety at risk.
They came to Montana again in 2022 and we used clues from the show to determine that Season 8 of Naked and Afraid XL was filmed somewhere in the Paradise Valley. Both of those seasons were filmed in the mountains of Western Montana, likely in mid to late spring.
Naked and Afraid should try to survive 40 summer days in the Missouri Breaks. Here's why.
It's remote.
There are 375,000 acres of public land in the Upper Missouri Breaks National Monument. It borders the Charles M. Russell National Wildlife Refuge, which is another 1.1 million acres of public land. It doesn't get much more "middle of nowhere" than the Breaks.
It's rugged.
My brother and his spouse spent three days canoeing through endless miles of the Missouri Breaks last summer and only saw or heard other humans twice.
There are tons of bugs.
If you watch the show, you know that bugs are one of the biggest annoyances for contestants. Having your entire body covered with bug bites has got to be absolutely miserable. Imagine spending weeks in the Breaks with no clothes and no bug spray! The mosquitos and horseflies would eat you alive.
Extreme weather.
When it is sunny and dry in the Missouri Breaks, it's one thing. When a torrential downpour hits from dramatic spring and summer storms, it's an entirely different nightmare of gumbo and muck. Thunderstorms in this part of Montana can be fierce and would surely challenge Naked and Afraid cast members.
Dangerous, dramatic animals.
More than 40 species of mammals call the area home. Show producers would certainly highlight any bear or rattlesnake encounters that might occur and you know they would capture the sounds of coyotes howling in the dark night skies when they film the night-vision campfire clips on the show.
A different view on Montana.
Dear Naked and Afraid: If you ever return to Montana, please film in the Missouri Breaks. When much of the world thinks all of Montana looks like the set of Yellowstone, it would be great to give them another perspective of our awesome state. Drop those naked, ill-equipped contestants in one of the most inhospitable places in the state... in the scorching heat of summer... and see how they hold up. We'd watch that in a second.
Read More: Naked and Afraid XL Season 8 Was Filmed in Montana, but Where?
The Top 10 Most Expensive Montana Related Items On eBay Right Now
Here are the 10 most expensive items you can buy related to Montana on eBay.
Illegal Names You Cant Name Your Baby in Montana