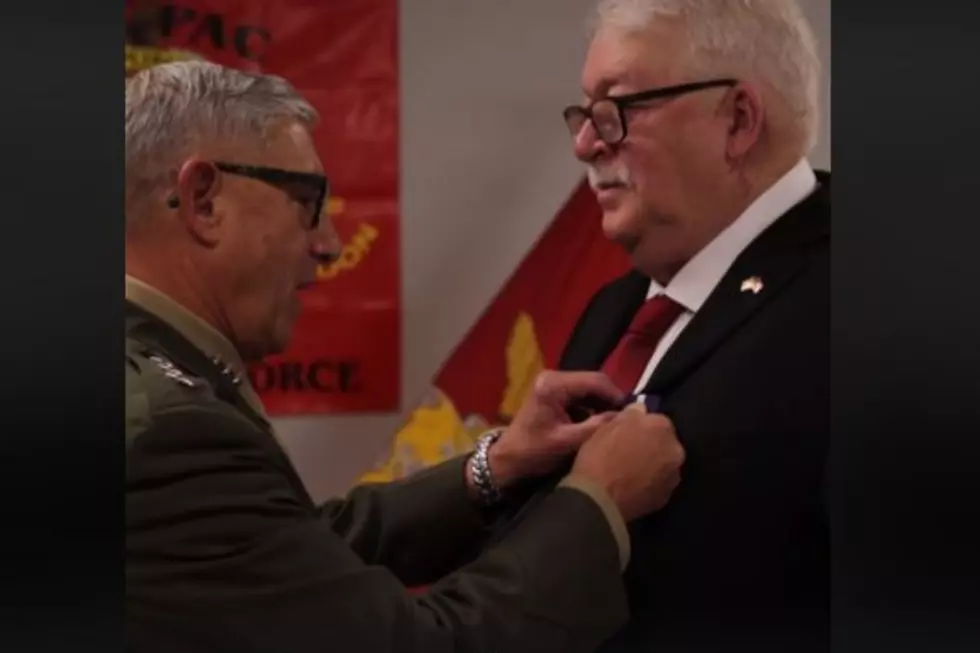 Must-See: Navy Cross Presented in Polson
Courtesy US Marine Corps Facebook page video
This is a story of remarkable heroism. A story that movies are typically made of. And it's a story about a US Marine from Noxon, Montana- Lance Corporal Jim Stogner.
Stogner was presented with the Navy Cross on Friday at the VFW in Polson.
April 5 of this year marks the 52nd anniversary of the day when Stogner showed extraordinary heroism and courage while rescuing a fellow Marine. On that date in 1967, the 18-year-old Stogner was serving as part of a machine gun team. He saved the life of a Marine who was being tortured while in the hands of the North Vietnamese soldiers as well as saving the lives of numerous other Marines.

 
We spoke with Senator Steve Daines (R-MT) about the ceremony during Friday's Montana Talks radio show. Stogner wasn't wasn't given this award for 52 years due to a lack of witnesses. Senator Daines helped Stogner receive the recognition he deserved and was there in Polson to emcee the medal ceremony in honor of Stogner. 
Hear Stogner's story, in his own words, in the below video posted by the US Marine Corps on their Facebook page:

More From KBUL NEWS TALK 970 AM & 103.3 FM