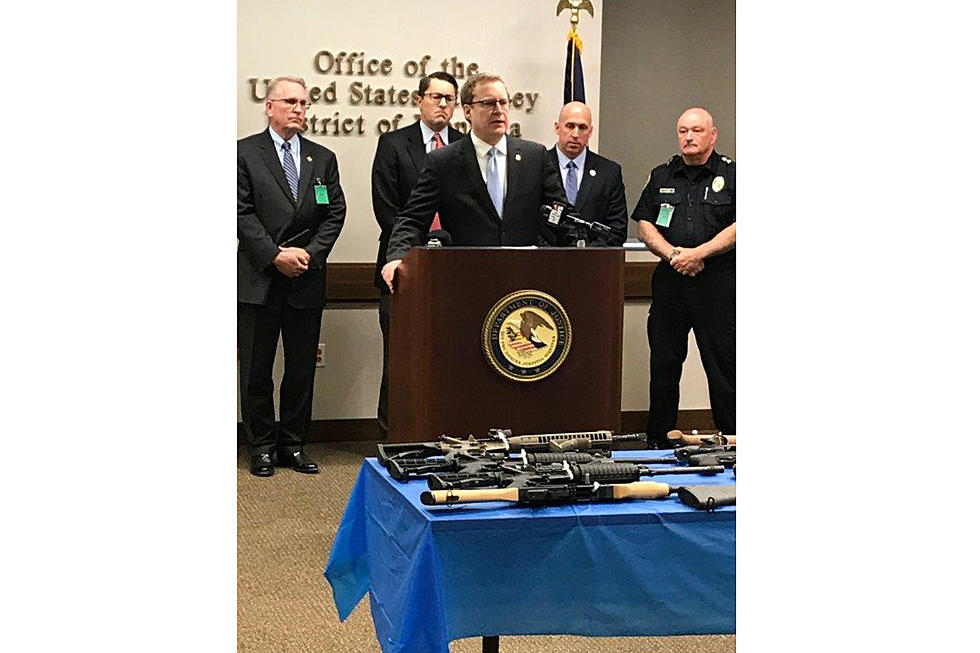 Trump's US Attorney Cracking Down on Crime in Montana
Courtesy US Attorney's Office, District of Montana
Montana's US Attorney Kurt Alme has only been on the job for about a year. But, after being nominated to the job by President Trump, Alme is already hitting the ground running and showing some significant results.
A little background first- Montana saw a 400% increase in meth violations from 2010-2014. According to the Yellowstone Substance Abuse Connect Coalition, the meth epidemic is also directly responsible for an increase in violent crime in Montana:
Statewide violent crime is up 35 percent from 2013 through 2017 and Billings violent crime is up 75 percent between 2010 and 2017, largely due to the methamphetamine epidemic. In addition, Yellowstone County's child abuse/neglect cases increased 177 percent from 2014 to 2018. In almost 65 percent of these cases, at least one primary caregiver is abusing methamphetamine.
Bottom line- we saw an explosion in meth crimes under the previous administration. And now we have a new administration, and a new US Attorney that is going after the meth problem- and going after it aggressively. Check out the results they're already seeing after reinvigorating the Project Safe Neighborhoods (PSN) program roughly one year ago.
US Attorney Kurt Alme joined us on Friday's Montana Talks to go over the numbers. Listen to the full interview by clicking below.
Earlier this week, Alme's office announced these numbers:
In the one year that Project Safe Neighborhoods, a federal initiative, has been at work in Yellowstone County, law enforcement has dismantled methamphetamine trafficking rings, seized hundreds of pounds of methamphetamine and numerous firearms, and prosecuted more than 200 violent offenders, top federal, state and local prosecutors announced today.

The one-year results show that a steadily growing violent crime rate in Yellowstone County has been almost stopped since PSN went into effect.

The violent crime rate in Yellowstone County has been increasing every year since 2014. In the 12 months prior to PSN beginning in April 2018, murder, robbery and aggravated assaults had increased almost 26 percent. And in the 12 months before that those crimes had increased by almost 16 percent. In the 12 months since PSN began, the growth in violent crimes has almost stopped, increasing just 1.3 percent.

To date, 170 defendants have been charged with federal meth trafficking, armed robbery and firearms offenses by the U.S. Attorney's Office.

In addition, 245 pounds of meth, representing almost 890,000 doses and an estimated $11 million street value, have been seized. Law enforcement officers also have seized 212 firearms, including 57 semi-automatic assault-style rifles. The U.S. Marshals Service Violent Offender Task force has served 652 federal and state warrants on violent offenders.
The release added that PSN Yellowstone County's partners include the U.S. Attorney's Office; Yellowstone County Attorney's Office; Montana Department of Justice's Prosecution Services Division, Highway Patrol and the Division of Criminal Investigation; the Montana Department of Correction's Adult Probation and Parole Division; the Billings and Laurel police departments; the Yellowstone County Sheriff's Office; Alcohol, Tobacco, Firearms and Explosives; Drug Enforcement Administration; FBI, Homeland Security Investigations and the U.S. Marshal's Service.
More From KBUL NEWS TALK 970 AM & 103.3 FM