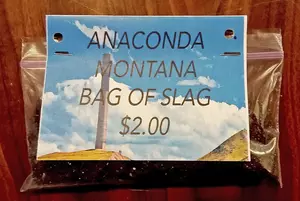 Mine Waste Gift Bags Pulled From Shelves Amid EPA Warning
Credit: AP
HELENA, Mont. (AP) — Environmental regulators have put a halt to a Montana business association's sale of sandwich bags of mining waste advertised as a "Bag O'Slag."
Environmental Protection Agency officials overseeing the Superfund site cleanup of pollution from nearly a century of smelting operations in Anaconda came across the potentially toxic tchotchkes for sale by the city's chamber of commerce. The slag, a byproduct of smelting copper, contains small amounts of arsenic and lead.
Mary Johnston, the chamber's executive director, said the EPA asked the chamber to stop selling the black slag in a re-sealable bag and gave them some alternatives.
Anaconda's Old Works Golf Course — which has slag in its sand traps — sells souvenir slag and a golf ball in a sealed container.
Johnston says the chamber sold up to 40 bags a summer for $2 apiece alongside Montana history books and huckleberry jam.
"It's a silly little thing, but I understand, they're concerned," Johnston said Monday. "It was not a big moneymaker. It was just a novelty item we could offer."
The bags had a picture of the Anaconda smokestack and part of the slag pile on the front and information about the slag on the back, including a warning against handling it because it has characteristics similar to broken glass.
"While we expect minimal risks associated with the normal handling of the souvenir slag, we will be evaluating the material and are advising those in possession of the bags to dispose of them as normal household waste as a precaution," said Rich Mylott, a regional spokesman for the Environmental Protection Agency.
More From KBUL NEWS TALK 970 AM & 103.3 FM