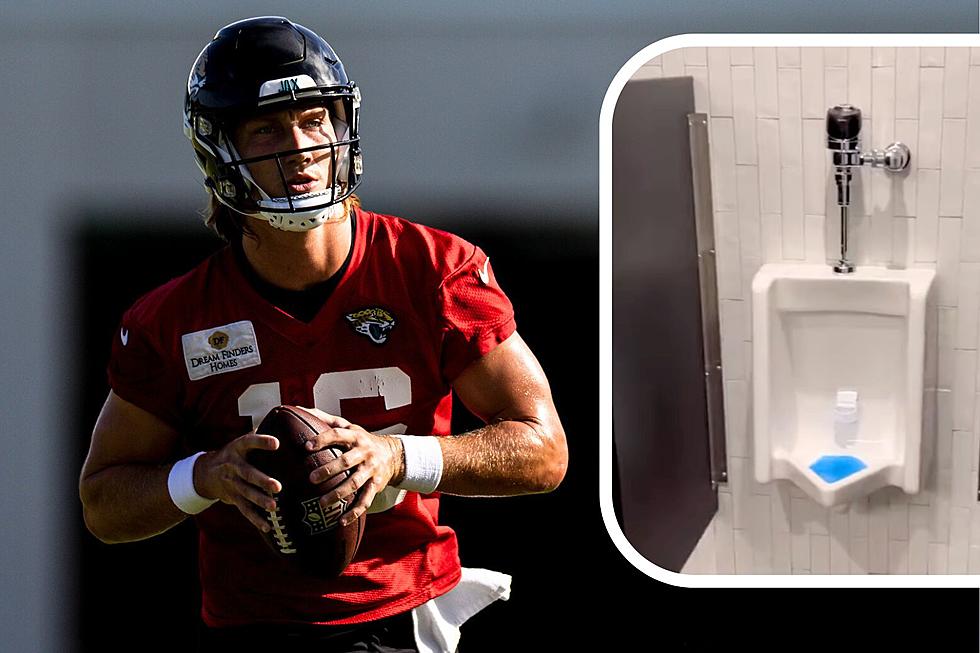 NFL Team Measuring Hydration Levels Using Player Urinals
James Gilbert, Getty Images, Scott Hanson via X
You might raise an eyebrow the next time a sports announcer mentions a player is one of the "top producers" on the team.
The Jacksonville Jaguars recently opened their new Miller Electric Center, a "state-of-the-art facility" that will be the headquarters of the NFL team's operations and player development.
As part of the technological advances featured in the facility, the Jaguars will apparently start measuring players' urine.
A video recently shared NFL Red Zone host Scott Hanson shows a device hanging in the middle of each urinal in the players' practice facility.
In the video, Hanson explains that the device contains a sensor that measures the player's hydration levels as the urine enters the toilet.
"If the light turns green when you go, you're good," Hanson says in the brief video tour of the facility. "If it's yellow you need to hydrate some more. If it's red, you're probably going to get a notice from the athletic trainers and maybe have an IV."
According to USA Today, the device is called the InFlow Hydration Awareness system. The website said a four-pack of the devices cost $2,599.
This likely isn't a cheap experiment. From the looks of Hanson's video, the Jaguars have them installed in every urinal.
USA Today spoke with Jaguars head coach Doug Pederson who said the system is just for his players.
Pederson's explanation of how the device will be used contradict's what Hanson reported regarding the training staff being notified of players who need to hydrate.
"The data doesn't go anywhere," Pederson said. It's not connected to Wi-Fi, it doesn't go to an iPad in the training room and tell you that you're dehydrated, no."
The Jacksonville Jaguars begin their regular season Sept. 10 when they play the Colts in Indianapolis.
30 Hilarious Minor League Baseball Teams That Sound Fake, But Are Actually Real
We went through every Major League Baseball team's Minor League affiliate list to find the most hilariously creative team names and the ballpark promotions they present to their fans. From biscuits to Mullet Thursdays, here are 30 of the best Minor League Baseball team names and ballpark promotions.
The Definitive List of The Oddest, Strangest and Downright Filthy Town Names In Every State
We combed through list after list of the oddest, strangest and somewhat naughty-sounding town names in every state. From Smut Eye to Ding Dong, you can learn unbelievable facts about each of these towns below.