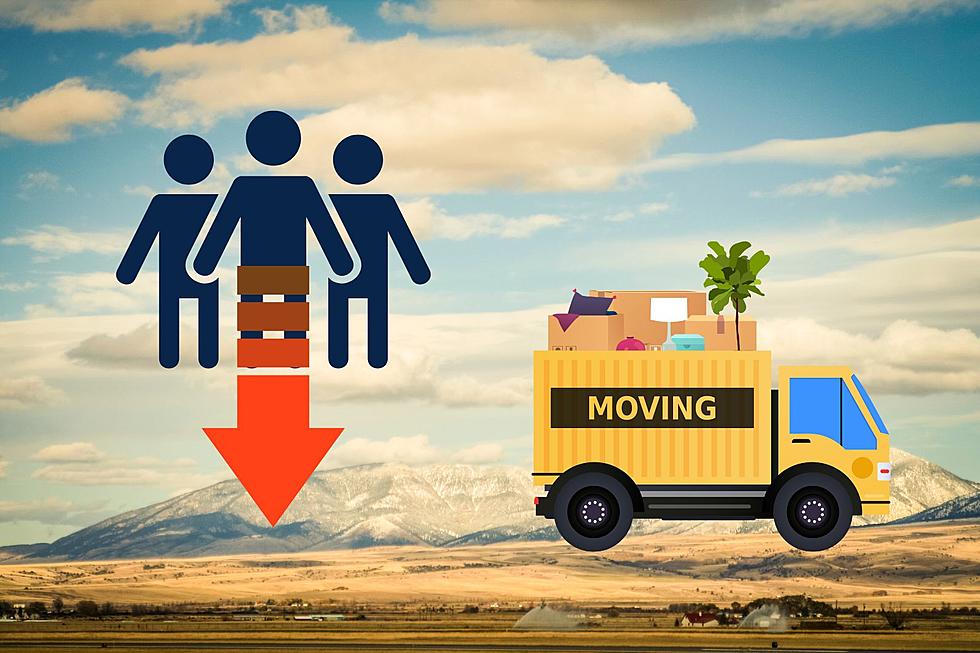 14 Montana Counties Where the Population is Dropping Like a Rock
Canva
Much attention is given to the massive population growth in some of Montana's favorite counties. Flathead County, Gallatin County, Yellowstone County, Missoula County, and Ravalli County have seen their population grow by the thousands in the last couple of years.
The COVID exodus from residents in other states to Montana is partly to blame (or credit, depending on your view). Millions of Americans realized they could work remotely from just about anywhere in the world. Why not an awesome Montana "cabin?" The hour-long Montana infomercial Yellowstone attracts even more interest to our great state and now locals can't afford housing. Yay for us.
Net migration dropped in 25% of Montana Counties.
Growth seems out of control in the Treasure State's hotspots, but an interesting bit of data was shared by the Montana Department of Labor and Industry that reveals that one-fourth of the counties in Montana experienced a drop in net migration. This reflects the total number of people that moved in and out of an area, not deaths or births.
If you're looking for somewhat more affordable housing, perhaps one of these 14 counties is a place for bargains. All of them experienced a net migration drop from 2020 to 2022.
Glacier County -216
Bordering Glacier National Park, Cut Bank is the largest community in Glacier County. In Babb, you'll find the Cattle Baron Supper Club, winner of a 2009 Maxim Magazine Award.
Liberty County -11
Home to under 2,000 residents, this is one of Montana's youngest counties. Nicknamed "the Heart of the Hi-Line", it was formed in 1920. Legendary fishing opportunities exist at Tiber Dam/Lake Elwell.
Hill County -487
Havre is the hub in Hill County. It's also a stop on the Empire Builder Amtrak route that crosses northern Montana, which I wrote about earlier this summer HERE. According to the Hill County website, the population density is just six people per square mile.
Blaine County -226
Next door to Hill County is Blaine County, where the view includes plenty of rolling plains on the northern half, to the rugged, world-famous hunting areas on the Missouri Breaks on the southern edge.
Valley County -32
Saskatchewan, Canada to the north and our massive Fort Peck Lake to the sound is what you'll find in Valley County. A sportsman's paradise, Glasgow is the county seat of this sparsely populated county.
Roosevelt County -270
Wolf Point is the largest community in Roosevelt County, with a population of around 2,500 people. The history of its name is somewhat murky, but one colorful account comes from the city's official page,
Wolf Point got its name from the fact that one winter the wolfers killed such a large number of wolves that they froze before the skins could be removed. The frozen carcasses were piled near the river to wait the coming of spring and the pile was so high, it became a landmark for all the country around.
Richland County -340
Oil and ag are the biggest industries in Richland County. Sidney is the largest town, with North Dakota just a couple of miles away.
McCone County -13
Only 1,700 people live in this county south of Wolf Point. It's named after former state Senator George McCone, who was once a county commissioner of nearby Dawson County.
Dawson County -84
Glendive is the largest community in this eastern Montana county. It's known primarily for ag, oil, and dinosaur fossils.
Fallon County -28
At just over a million acres, this county in the southeastern corner of Montana was born when the Milwaukee Railroad began rolling into Montana in 1908. Baker is the largest town.
Carter County -14
Yes, we know Devils Tower is not in Montana... but you can almost see it from Carter County. It's the 7th least populated county in Big Sky Country, on the border of Wyoming and South Dakota. Ekalaka is the biggest town (pop. 399) and let's be honest, Ekalaka is really fun to say.
Rosebud County -279
With the Yellowstone River on one side of town and the railroad and I-94 on the other, Forsyth is the largest community (pop. around 1,600) in Rosebud County, located about ninety minutes east of Billings.
Treasure County -13
Treasure County is the 2nd least-populated county in Montana, with less than 800 residents sharing 630,000 acres of land. Hysham is the biggest town, with just 276 residents in 2020.
Bighorn County -430
The 6th largest county in Montana, Bighorn County saw the 2nd largest drop in net migration from 2020 - 2022, losing a whopping 430 residents. Rich with history, Hardin is the county seat and largest community in Big Horn County with around 3,800 residents. Tongue Reservoir is wildly popular for boating and fishing.
16 Interesting Shots of Montana as Seen from Google Earth
They always say the view is better from above. Here are some interesting pics from Montana, as seen from space.
7 Celebrity Weddings in Montana
There are plenty of celebrities who have visited Montana recently, and sure, there are lists of celebrities who have made their home here, but what about the celebrities who plan their special day in the Big Sky State? Here's a list of celebrity weddings that occurred in Montana, as well as one we're not sure about, and one that had to change locations.