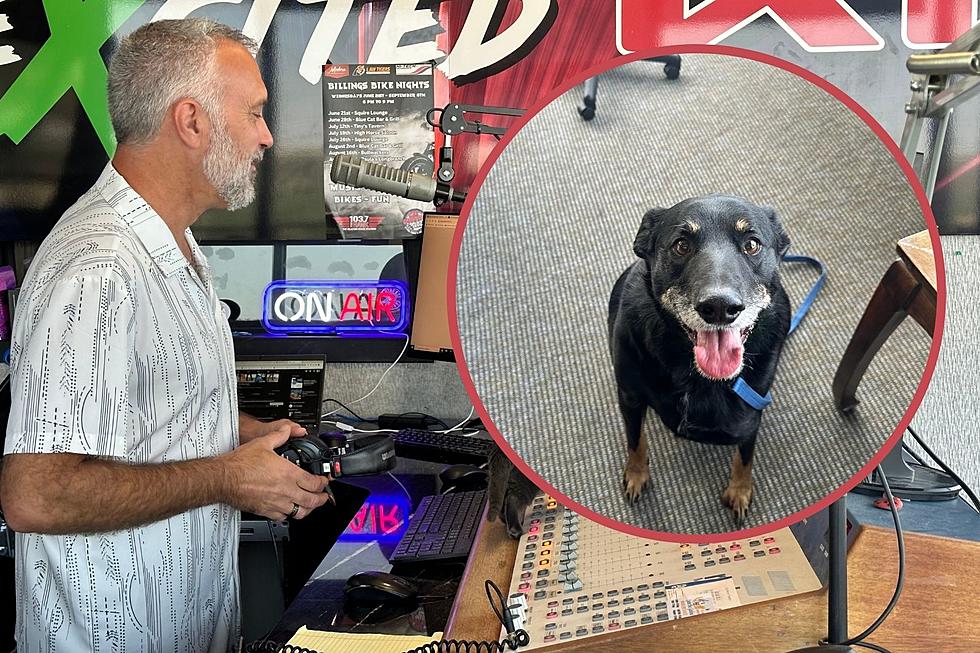 This Oscar is No Grouch. Meet Billings Featured Adoptable Pet
Jaci Bjorne, TSM
If you're looking for a dog that would love going out with you on adventures AND cuddling up on the couch when the day is done, your search may be over. Meet our featured Wet Nose Wednesday pet of the week, Oscar. 
For an eight-year-old Australian Shepherd/Kelpie mix, Oscar appears to have lots of life ahead of him. Especially if he receives a little exercise and perhaps fewer treats. He's a hefty, medium-sized dog, estimated at around seventy pounds.  
But he's quick.
Oscar zipped around our studios this morning when Yellowstone Valley Animal Shelter brought him up to our 23rd-floor offices for a visit. He loved the car ride over, said Derek Wulf, Outreach Coordinator at YVAS. 
He's intelligent.
 Can we talk freely? I love dogs and have owned or been around many breeds. I think we can agree that some dogs are simply smarter than others, yes? Oscar lands in the smarter category. He seemed to be begging us to play. He's good with cats, according to YVAS, and my impression was he'd be great with kids too. Oscar was picked up by animal control and was unclaimed.  
We always wonder how dogs like Oscar end up needing new homes.
This dog appears very well-fed. His coat is shiny, and he isn't shy or skittish. Did he escape from a yard and the owner(s) didn't think to call the shelter? Or maybe he was abandoned by someone who could no longer take care of him for some reason. Did he escape from a car when a traveler was driving through town and stopped for gas? Who knows. Oscar was chipped, but the contact info was no longer correct.
You can see all the dogs currently available for adoption at Yellowstone Valley Animal Shelter HERE. You can check out their cats HERE. YVAS is a 501(c)(3) and rehomes hundreds of pets annually in the Billings area.  
KEEP LOOKING: See What 50 of America's Most 'Pupular' Dog Breeds Look Like as Puppies