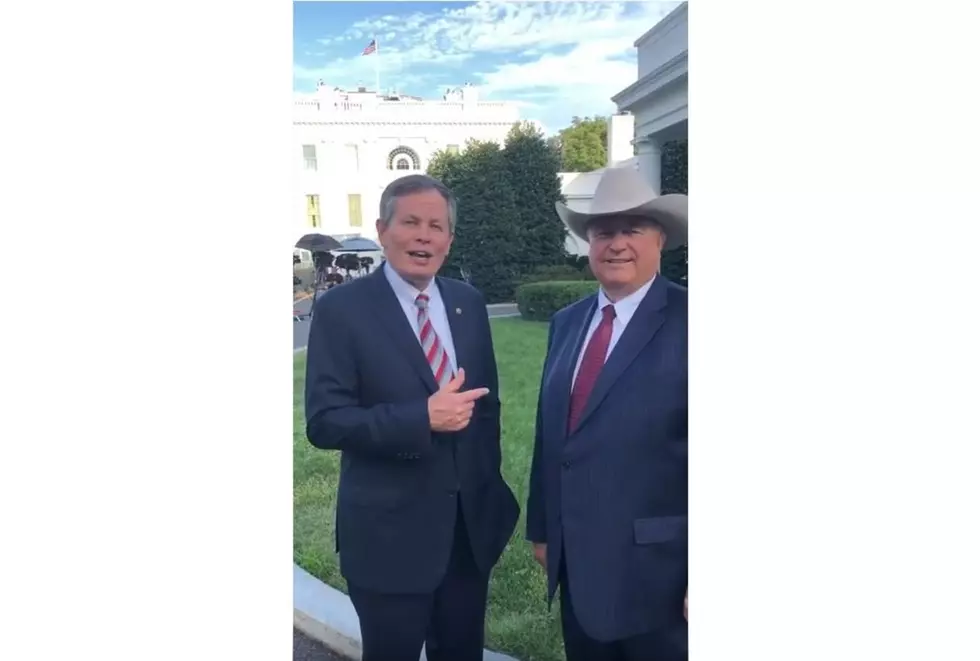 MT Stockgrowers Pres Fred Wacker on USMCA, More [AUDIO]
Sen. Steve Daines and Fred Wacker at White House, Credit Sen Daines YouTube Channel
Montana Stockgrowers' President Fred Wacker previews the 2019 MSGA Convention & Trade Show coming up in Billings. Plus, we cover the big issues like the USMCA and more.
But first, how is the year wrapping up for Montana ranchers, especially after all of the crazy weather this past Spring and Fall?
Wacker: Most of the cattle are shipped, the calves and yearlings, and people are kind of settling in. We had a really good hay year, and most everybody put up lots of fine hay, and everybody is just kind of setting in for what we hope will be a normal Montana winter.
Top officials with the National Cattlemen's Beef Association, the Department of Interior, the USDA, and other organizations will be in attendance at this year's convention. Wacker says the USMCA is still a major focus of the Montana Stockgrowers.
So, is there a still a chance that a deal could be done before the end of the year?
WACKER: I would certainly hope so. The trade agreement with Mexico and with Canada is so very important because they are our very closest and probably our single biggest trading partners when it comes to grains and beef. There's a lot of Montana cattle, feeder cattle that get sold into the Canadian market. It's a very important thing.

I wish Nancy Pelosi and the House of Representatives would stop fooling around with these issues and start getting things done that needs to be done.
Wacker says if Congress doesn't get the USMCA deal done, that farmers and ranchers will be the losers.
Click below for more from our conversation with Fred Wacker:
Montana rancher Fred Wacker will be in attendance at the White House Monday afternoon as President Donald Trump is set to formally sign the Japan trade deal, according to an advisory sent out by Senator Steve Daines' (R-MT) office.
Wacker is a rancher in Miles City, and also serves as president of the Montana Stockgrowers Association. You can watch the entire signing ceremony below.
Senator Daines' added this in a prepared statement:
I look forward to bringing Fred Wacker to the White House today as we join President Trump and key officials for the signing of the US-Japan trade agreement. This is a huge win for Montana ag and jobs. This deal will help level the playing field for Montana farmers and ranchers in Japan's critical market, and strengthen our state's number one economic driver, agriculture.
WATCH LIVE at 1:30 PM Mountain Time:
More From KBUL NEWS TALK 970 AM & 103.3 FM